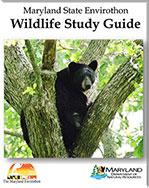 MD State Envirothon Wildlife Study Guide

Update​​d July 2021 Guide containing general information on wildlife ecology, wildlife management, wildlife legislation and important wildlife to know. This is a study guide for advisors and students participating in the Maryland State Envirothon competition. It is not inclusive of all content you may need to know for the state competition. Students are expected to have a general knowledge and understanding of wildlife ecology, wildlife management and national and state legislation affecting wildlife.
More wildlife training resources below videos.
Training Videos


Wildlife Ecology Resources

Guide to Forest Interior Dwelling Birds
Common Feeder Birds
Peterson Field Guide to Birds of Eastern and Central North America, Sixth Edition by Roger Tory Peterson
---

Reptiles and Amphibians of Maryland​

Checklist of Maryland Reptile and Amphibian Species
​
Common Backyard Herps

Common Snakes of Maryland Photo Guide
NEW – Peterson Field Guide to Reptiles and Amphibians of Eastern/Central North America, 4th edition by Roger Conant and Joseph T. Collins
---

Mammals of Maryland
​Peterson Field Guide to Mammals of North America by Fiona Reid
---

Rare, Threatened and Endangered Animals

List of Rare – Threatened and Endangered Animals
---

---
Wildlife Management Resources

Sexing and Aging Keys

Sexing and Aging Wild Turkeys
​
Deer Jawbone Aging Key
---
Wildlife Legislation Resources
Endangered Species Act of 1973
The Lacey Act of 1900
Marine Mammal Protection Act
Migratory Bird Treaty Act
Pittman-Robertson Federal Aid in Wildlife Restoration Act
---
Virtual Q and A from 2021
2021 Virtual Envirothon
Recommended study material includes the Wildlife Study Guide linked below, training videos, and the new PDF guides. Students will be provided the MD Mammals 2021 PDF, MD Herps 2021 PDF, and MD Birds 2021 PDF during the virtual test to use in lieu of field guides. They will not be expected to know how to use the Maryland Hunting Guide this year.
For more information, visit the Maryland DNR Website
Or, Contact: Karina Stonesifer
410-260-8566
Karina.Stonesifer@maryland.gov